Cerny: Knack Can Be Someone's "First Console Game Ever", But Prepare To Die - October 19, 2013
Knack Preview: Enjoyable Fun From Sony - October 18, 2013
Why PlayStation 4 architect Mark Cerny's Knack could appeal to hardcore gamers and broad audiences - October 18, 2013 *Knack: Mark Cerny's Stepping Stone Into the Future - October 18, 2013
Knack story and character details provide a deeper look into the game - October 18, 2013
Preview: Knack is a PS4 Launch Title You Shouldn't Skip Over - August 29, 2013 Gamescom: PS4's Knack is Fun and Difficult for All Ages - August 24, 2013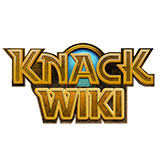 Welcome to Knack Wiki
The Wiki about Knack that
The Knack reference is written and maintained by the players and for the players. Please feel free to contribute by creating new articles or expanding on existing ones. We are currently maintaining 183 articles.
Affiliates of the Knack Wiki
Knack is a game for the PS4 that was developed by Japan Studio in cooperation with game designer Mark Cerny. In Knack, the titular protagonist discovers hidden talents which allow him to incorporate ice, metal, and other substances into his body, giving him new abilities from level to level. War has been brought against mankind by a resurgent species known as Goblins, led by Gundahar. A human doctor, who studied ancient relics from a long lost civilization for many years, finally found a way to bind them together and give them consciousness. The result was Knack, a creature with mysterious powers. For example, he can incorporate more relics into his body as he finds them, which allows him to transform from a three-foot tall creature into a gigantic wrecking machine. The doctor believes that Knack will be an invaluable asset in the war against the Goblins, until it becomes clear that an even greater danger is posed by elements of the human community.